Revolutionary ecologic technologies are now available, enabling everyone to use water responsibly without being deprived of its enjoyment.

These technologies have been implemented into showers in order to address both practical and environmental concerns.

These shower heads actually generate substantial water savings while at the same time allow for an invigorating and energetic shower experience.
The Eco series shower heads from Econologic Systems are the most high-performance and water saving shower heads. Other brands use flow restrictors to reduce the water flow which in turn reduce water pressure very noticeably.

In great contrast, Econologic shower heads actually enhance shower performance and boost water pressure to allow energetic and invigorating shower experience while maximizing water efficiency and preserving the environment.
Venturi Water Pressurization Technology Specially designed air induction Venturi technology automatically infuses air into the water before it emerges out of the shower head, thereby accelerating the water flow. When water and air are mixed, the water soaks up the added oxygen, forming larger droplets, creating a stimulating oxygen-enriched flow. The result is a powerful, exhilarating surge of pressurized water that feels as though a much greater amount of water is being used.



In contrast to competitor products, Econologic shower heads achieve maximum efficiency by placing the Venturi mechanism close to the water outlet. This delicate design ensures that the water's enhanced momentum is not lost along its long traverse through the shower head conduit.





This Venturi technology also enriches the water with oxygen which is known to renew and refresh skin cells. Water enriched with oxygen stimulates the senses and refreshes the body, thereby contributing to the well-being of skin health.

With their water pressure enhancement technology, the Eco series shower heads are highly recommended for use at any location; including higher floors in buildings such as residential blocks and hotels where the main water supply may have a low pressure.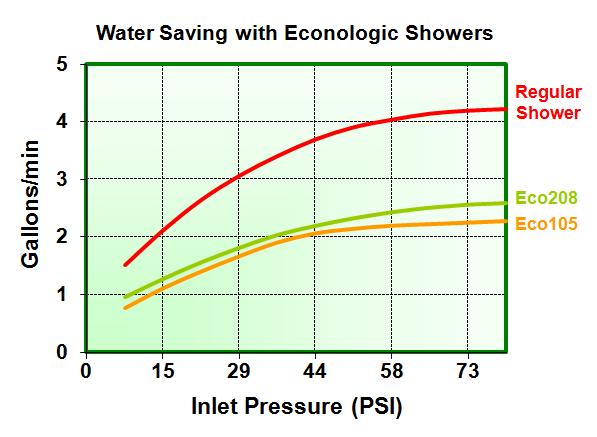 Click here to view a demo of the extent of water and energy saving when using Econologic shower heads.

Click here to see the comparison between the consumption cost of an Econologic and a traditional shower head.